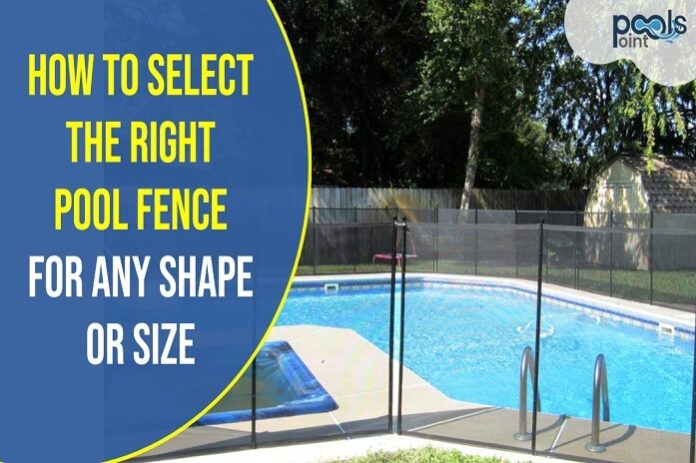 Pool fences are a must to ensure the safety of the users of the pol. Whether you are a renter or the owner of the home, it is necessary to have a pool fence by law.
Prior to taking a dive into the swimming pool, you need to ensure to do the same in a legal and safe environment. It has become the prime choice of people to ensure the safety of family and friends who use the swimming pool.
Types of pool fence
Pool fences are available in a wide array of price points and materials which are mentioned below;
Mesh
Though it is the easiest option that involves a huge cut off from the pocket, you cannot count on it as the most reliable choice.
Although these mesh panels are found to connect to the stationary posts, pushing them down is not a walk in the park. Apart from this, they are not accepted in those places which need the pool fencing.
It is a suitable option for keeping small animals such as squirrels away from the pool area. The mesh fences can be availed in the DIY kits usually which do not need any sort of professional installation. Needless to say, it makes it one of the budget-friendly choices for you.
Chain link
Chain link is regarded as a budget-friendly choice for the pool fence. However, you cannot consider it as a very safe option. It is due to the fact that you can climb on them at ease, indicating that small animals and children can make their way into the area of the pool without any hassles.
Hence, it is recommended to invest in something which creates an effective slid barrier. In case you select the chain link, you can consider it installing on your own in case you have a good hand with wire cutters and concrete.
PVC
Speaking of the pool fence choice, PVC can be an excellent choice. The hardened plastic of the PVC is strong and thus it can withstand the elements in a perfect manner.
As it is composed of plastic, it is possible to make it into the size or shape of any type. Apart from this, they are regarded as a solid choice, thereby conferring additional privacy in comparison to other kinds of fences. You, however, require professional installation, for the same.
Wrought iron
This type of pool fence has become the number one choice of people owing to their durability and heavier weight. As you opt for them, you can be ensured that it is going to last for a longer period of time.
However, the long life will need upkeeping. Exposure to the rain and sun will result in the rusting of the fence, indicating that you will require sanding as well as painting the pool fence time and again with an eye to preventing the rusting as well as falling apart of the same.
Aluminum
Such type of fences are resistant to weather and need reduced upkeep in comparison to other kinds of fences. They are found to be aesthetically more pleasing.
Vinyl
They are sturdy and thus they can be an excellent choice for the pool fencing.
Glass
It is considered to be one of the most expensive pool fences which tends to stay functional. They offer an unobstructed view of the pool from different parts of the yard.
Wood
It stands out of the ordinary in terms of design and style and needs additional maintenance.
Features to consider
Here are a few of the factors that you need to give consideration to while purchasing the pool fence:
Height
In case pets and toddlers are your prime concern, you can go for a pool fence, having a height of four ft. However, you need to keep in mind that your little one will grow in no time.
Hence, it is recommended to invest in the higher fence, in lieu of installing another one at a later off stage. Do not forget to check out the local laws of the state, regarding the requirements for the least height.
Gap width
In case you select a fence, having iron bars or the vertical slats of wood, you should make sure that the gap present between the pieces is really narrow and it cannot be squeezed by a child.
As you choose these fences, keeping the animals, primarily the same ones can be challenging, as they can make an entry through the narrow space easily.
Connection
You can avail a few fences as the kits while putting them together. As you opt for that route, you need to ensure that the process to connect the fence pieces is really sturdy. In case there are pieces that are loosely fit, the ultimate goal of putting the pool fence will not be effective.
Ground Clearance
It is not a wise decision to opt for a pool fence, which can be climbed by pets or toddlers at ease. As you install the pool fence, you need to ensure that there should be no clearance between the ground and bottom of the pool fence.
Hands and foot holds
In case your newborn is crawling, any sort of pool fence will be helpful in order to ensure that they do not enter the pool area.
However, as soon as they begin walking as well as standing, you need to install the pool fence that does not confer hand as well as footholds to your little one.
There are a wide array of reasons owing to which installation of the pool fence is regarded as a great option. You can render the ultimate protection to your family members as you opt for the pool fence, available in the market.
Different types of pool fence are available and you can choose one, catering to your needs. Do not forget to take the different factors around you into consideration in order to choose the right pool fence for your swimming pool.