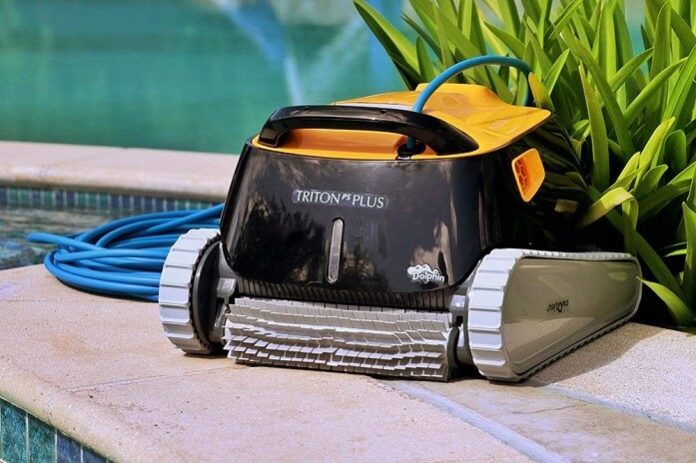 While owning a pool is fancy and all, maintaining and cleaning it is where the difficulty lies, especially if your pool is a large one.
Besides that, it's always difficult for most swimming pool owners to squeeze out time out of their very tight schedules to clean the pool manually.
This is where a robotic pool cleaner comes into the picture. With the best robotic pool cleaner, you can easily and efficiently clean every surface of your pool from the top to the bottom.
Presenting the Dolphin Triton Plus Robotic Pool Cleaner, which is the upgraded version of the Dolphin Triton Robotic Pool Cleaner.
This new pool cleaner from Dolphin isn't just an ordinary cleaner, it is an advanced pool cleaner that is sure to blow both dirt and your mind away with its incredible features and cleaning efficiency.
If you are looking to purchase a top of the line pool cleaner, then you are in the right page.
Dolphin Triton Plus Overview
Widely known as one of the most easy to use pool cleaners available on the market, the Dolphin Triton Plus Robotic Pool Cleaner comes with several advanced features such as weekly timer set up and Bluetooth navigation.
The most impressive thing about this device is how it can be controlled effortlessly with a Bluetooth remove that you can access from your smart. It also comes with an enormous capacity filtration.
Furthermore, this device features a navigation system which shows how this product has been designed with the latest technology.
Additionally, features PowerStream for total coverage of the swimming pool, and it can be utilized for cleaning tiles and walls.
The recently adopted PowerStream innovation provides a solid grip for horizontal and vertical surfaces. Moreover, the unit comes with superfine filters for the removal of debris and dirt filtration.
Another excellent feature of this pool cleaner is its ergonomic design which makes cleaner a lot lighter and easier.
It comes with a large, hinged top cover that opens upward to reveal a huge capacity filter bucket which is easy to clean. Overall, this pool cleaner is a magnificent cleaner that is sure to take care of all your pool's cleaning needs.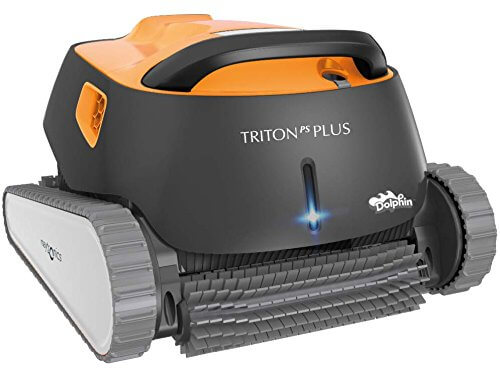 Dolphin Triton Plus Specifications
For in-ground pools of different shapes and sizes
Suitable for cleaning steps and wall
Two filter sets: 4 fine plus 4 superfine
Extra-large top-access filter basket
Weekly timer
Bluetooth remote control
PowerStream technology
2-hour regular cycle and 1-hour rapid cycle
2-year warranty
Portable and lightweight
Easy to use
High capacity Filter Basket
Durably constructed
High energy efficiency
Bluetooth connection might be a bit weak
Quite expensive
Intuitive Brushing Ability
Swiveling whilst running, this device comprises of a huge active brush that rolls upon the rear and front of the unit.
This incredible mechanism effectively eliminates debris, fine particulates, and other matters of different sizes and shapes that reside in the bottom of the pool.
The brush on this excellent pool cleaner from Dolphin swirls around two times quicker than the pool cleaner's speed itself.
Power Stream Technology
Most pool cleaners from Dolphin have been made with the company's ground-breaking technology that incorporates high effectiveness and thorough cleaning service.
This technology enables the pool cleaner to automatically detect dirt and navigate around to clean it up. Besides that, this pool cleaner guarantees superior cleaning through the walls and tiles of the pool. In addition, it propels effortlessly upon many directions to enhance easy cleaning.
Lightweight
Weighing just 16 pounds, the Dolphin Triton Plus weighs a whole 50% less than its precursor. Besides, this unit measures 9 x 17 xx 16 inches in dimensions, looking like a small rectangular box.
Being a lightweight machine, this model is ideal for anyone who doesn't like keeping his pool cleaner in a chemical-filled pool day in day out to increase longevity. Additionally, the Dolphin Triton Plus will flush any water out as soon as it as been extracted from the pool.
Cleverclean Scanning
When this device is placed in your pool for the first time, don't be surprised if it starts wandering around aimlessly.
Try putting it in the pool the second time and you will notice a drastic improvement in its movement. This is so because it comes with varieties of sensors that it uses to map the land inside the pool.
The sensors will determine the size and shape of your pool. Also, it will understand the curves, shapes, and corners of your pool, which thereby allows it to quickly, thoroughly, and efficiently clean your pool. The cleanness of the pool afterwards will totally blow your mind.
Bluetooth Remote Control
Here comes one of the most unique and impressive features of this unit. Made to be different from those models that utilize hand-held remote, only your Smartphone is needed to remove control this cleaner. It's very impressive.
You are only required to install the MyDolphin application which is available for both IOS and Android. This application will enable you to control your pool cleaner by tilting your virtual joystick or phone.
Since this unit comes with Bluetooth feature, users need to be within a range of 30 feet so as to control the machine more effectively.
LED Indicator
Furthermore, the device features a LED indicator which easily allows you to know its current mode. When its showing a green light, that means that your cleaner is being controlled by your phone.
While Blue light means it's in its independent cleaning. The application will set a timer for an instant, weekly cleaning timer. With this, you can now clean your pool more efficiently.
Battery & Compatibility
This unit comes with one of the best batteries you will find around. With the 3D mobility tech of this device, it is easy to see that is a very powerful machine.
However, it is energy efficient as it uses 90 percent less energy when compared with other pool cleaners in its class. It requires only 180 Watts for every cleaning.
The dual 24 Volt DC motor will cost you only about 5 cents for every hour that the machine is functioning. That will surely save you a lot of money.
Final Thoughts
The Dolphin Triton Plus Robotic Pool Cleaner is undoubtedly one of the best on the market, but it is also one of the most expensive.
However, it is the go-to pool cleaner if you want some quality cleaning for your swimming pool. Apart from being incredibly versatile, it also comes with many state-of-the-art features that its rival models can only dream of.