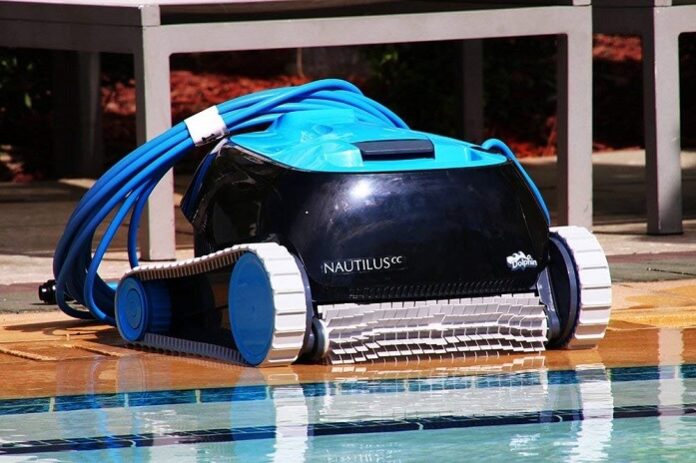 Cleaning and maintaining a pool doesn't need to be the difficult task it seems to be to most people. With the right equipment and a small amount of money, you can find an excellent automatic cleaning system that is capable of cleaning more than just the floor of a swimming pool. In this sort of situation, you might want to look at the Dolphin Nautilus Robotic Pool Cleaner.
This robotic pool cleaner from Dolphin is built to clean the pool floor, walls, and cove. It is a lightweight unit and is also easy to use. While it's relatively expensive compared to other cleaning systems in its class, its incredible functionality and durability make it worth every penny. If you are looking for a reliable pool cleaner that will get the job done consistently, pay attention now.
Dolphin Nautilus Overview
The Dolphin Nautilus Robotic Pool Cleaner is an excellent product that apart from cleaning the pool floor and wall, can clean the waterlines as well.
Featuring one of the newest and most accurate navigation technology that enables total pool coverage. This robotic cleaner is capable of cleaning pools of different sizes and shapes, and it can operate continuously for 3 hours and automatically power down. It is simple and convenient to clean the filer.
The pool cleaner comes with a built-in anti-tangling system to keep the cable from getting tangled during operation. The length of the cable of this cleaner is 50 feet, and its water release system has been immensely improved.
The pool cleaner utilizes newest and most accurate navigation system, Clever Clean Technology for scanning the swimming pool. This system enables the robot to figure out the best path, notwithstanding the surface or shape of the swimming pool.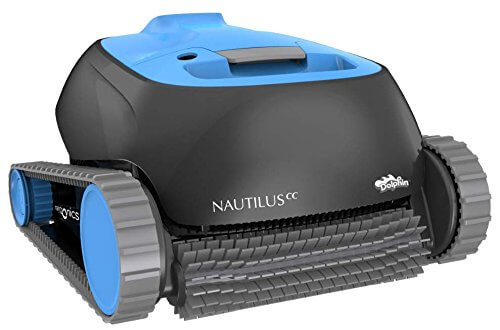 Features
Scrubs, filters, and vacuums every surface of the pool completely in just about 3 hours.
Includes an easy-to-clean cartridge filter with spring cleanup.
Swivel cable to prevent tangling.
Costs under 15 cents for cleaning the pool.
Quick and easy setup since it requires no installation or connections.
Self-programmed and intelligent system for optimum pool scanning.
12-month warranty on spare parts.
One year warranty.
Cleans efficiently
Comes with a 1-year warranty
Ultra-quiet operation
Saves a lot of time
Effective navigation technology
Very easy to use
Difficult to clean angles
Can't take care of larger leaves
Ergonomic Design and Build
The Dolphin Nautilus Cleaner, weighing just 14 kg, is primarily black finished on a high-capacity filter basket that is gamely identified polish in blue.
The unit runs through 4 gears intuitively affixed on equally to the cleaner's sides. Nevertheless, the cable is connected onto a slot in the device's top. It is portable and primarily plastic construction with a dirt and water proof surface.
Highly Organize Cleaning
All instructions for this cleaner are straightforward and comprehensible. All you need to do is just turn the power plug on and the cleaner will maneuver around immediately as it scans for particulates.
You will save energy and time for this unit since it features a weekly timer you could set on with a 2 hour cycle time for maximum efficiency.
Weight and Dimensions
Weighing just 14kg like we said previously, the machine isn't heavy for those with mightier biceps. Measuring 20 x 24 x 20, which reflects an outstanding design that is ready for work even by a mere look.
The weight and dimensions bear the working systems of this machine and also able to handle the high power this machine produces.
Noise and Energy Efficiency
This unit uses a small amount of energy when compared to some other pool cleaners.  Due to the incorporated weekly timer function and Clever Clean Technology, the energy usage of this machine will be decreased, and thus, you will save a lot of money.
This device operates quietly, which means that it can be used any anytime of the day or night without perturbing people.
Scanning Technology
Several of the best automatic pool cleaning systems nowadays use scanning technology for more efficiency. In this regard, the Dolphin Nautilus Robotic Pool Cleaner is upper there among the best.
It is an intelligent cleaning system that studies the shape of your swimming pool, utilizing scanners for detecting the cleaning path that is most effective.
As a result of this, it can scrub, vacuum, and filter your whole swimming pool in two and half hours only. Apart from the fact that efficient cleaning meals less time is wasted, it results in energy savings as well.
Easy maintenance and Warrantied
Apart from the fact that the pool cleaning is very easy to use, cleaning the cartridge filter is very easy. Doing the cleaning and installing the screens that capture the debris in the water takes less time.
In addition, the pool cleaner comes with a 1-year warranty which starts from the day of purchase, and includes spare parts, replacements, and labor.
Final Thoughts
While there are a lot of things to like about the Dolphins Nautilus Robotic Pool Cleaner, what we really like about it is its incredible energy efficiency.
Apart from being cost-effective, it is very powerful and user-friendly as well. It features an advanced cleaning system like the Clever Clean Technology which is a very innovative system.
In addition, the unit features a quick water release system that will release the water quickly when the unit is being removed from the pool. In general, this is an excellent addition and it is packed with everything needed by a pool owner.