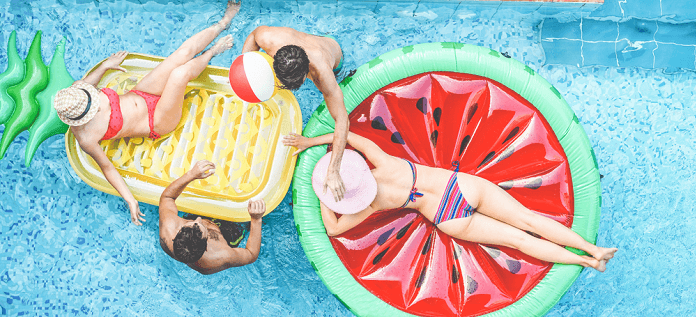 In this article, we've listed out the top 5 best pool floats for adults in 2018. We conducted a thorough research of all the popular pool floats in the market and analyzed their properties and features to help you choose the best pool float for your needs.
If you've been going through vacation or travel hashtags on Instagram lately, you'll find that a new craze of adult pool floats has been picking up. There once was a time when pool floats were only meant for toddlers and babies. But now, adults have finally realized that kids shouldn't be having all the fun, pool floats should be for everyone!
Adult pool floats come in all shapes and sizes — unicorns, donuts, bears, and all kinds of fun designs! Some are meant for families, some are pool floats for heavy adults, and some are meant for slim individuals. Most of them are inflatable so you can take them to the pool, inflate them, and spend a relaxing day floating on the water. No better way to spend your summer days than to float on the pool with a bottle of ice cold drink in your hand.
Since there are so many to choose from, we've shortlisted and reviewed the best pool floats for adults. These are our top picks for the season!
The Intex Canopy Island Inflatable Lounge is a large lounge big enough to fit an entire family. It makes for a great lounge even if you don't take it out to the pool.
Product Highlights
Detachable canopy is available.
Two air chambers are provided for extra safety and stability.
Backrest is available.
2 built-in cup holders.
Suitable For
This adult pool float serves multiple purposes. It can be used by multiple people at once, it makes for an ideal pool float for heavy adults, and it can be used to hold bottles as well!
Stability & Durability
It is made of PVC vinyl that's scratch and water resistant. It comes with two air chambers for added safety and stability. The air valves, along with the low center of gravity, will ensure that this inflatable lounge doesn't tip or flip over.
The presence of two valves means you'll have to inflate both the bottom and the upper chamber. The whole process will take a maximum of 5 minutes with an air pump. Deflating this adult pool float takes the same amount of time as inflating it.
Comfort
This inflatable adult pool float can accommodate a weight of over 400 pounds and it's big enough that a 6 foot tall individual can comfortably sleep in it without their legs poking out. You also get two cup-holders so you always have drinks within reach.
It also comes with a large comfortable canopy so it can protect you from the direct sunlight. The canopy can also be detached in case you don't need it. However, attaching the canopy requires two people. You get 24" rods with which you can attach the canopy, following the instructions given with the package. Once you install it, you can't adjust it as it's non-retractable.
One big issue is that in the heat the plastic might stick to your back so you should splash a little water on it every once in a while.
Aesthetics
A minimally designed floating lounge big enough for a family. The side of the pool float comes with loops and ropes so you can tie up the pool float if you don't want it to drift away.
The Good
This is one of the most comfortable pool floats for heavy adults and for families because it can accommodate over 400 pounds of weight.
The Bad
This pool float has some minor irritations associated with usage. For example, the canopy is non-retractable so once you put it up, you have to be satisfied with the amount of shade you receive. And the cup-holders are on the outer edges of the pool float so you need to stretch a bit to get them.
Ideal pool float for heavy adults or for a small family
Detachable canopy provides shelter
Can recline comfortably against the backrest
Cup holders to keep your drinks within reach
You can tie the float to the shore so you don't drift away
No canopy is provided. As such, you risk sunburn, unless you carry a lot of sunscreen
Only a single sitting position is available
SwimWays is pretty much the leader when it comes to pool floats for adults. As such, it's no wonder that the number 1 spot in this list is taken up by the SwimWays Spring Float Recliner Pool Lounger.
Product Highlights
Patented Inner Spring Technology used for stability.
Can accommodate a weight of up to 250 lbs.
Comes with a backrest, headrest, and ottoman.
Mesh seat to cool the back.
Side handles are attached for easy transportation.
A built-in cup holder is provided.
Suitable For
Lounging on the pool, soaking up the sun, and socializing with others over a chilled drink.
Stability & Durability
It's made of a durable water-proof fabric that's also scratch-resistant. Once you buy this pool float, you don't have to worry about replacing it for a long time.
This pool float also comes with a patented inner spring which provides additional buoyancy and helps stabilize the pool float. Even if you move around on the pool float, you won't tip it drastically.
Comfort
The seat at the center of this adult pool float is made of a soft mesh fabric. When you recline on it, the fabric stretches down just a little so your back is submerged a little under water. This helps keep you cool on those sweltering hot summer days.
The seat also comes with an integrated backrest and headrest. If you're feeling drowsy you can simply lay back and fall asleep on the water, under the sun. If you want to stretch out your legs, you can incline your legs on the provided ottoman.
If that weren't comfortable enough, the sides of the pool float also comes with a cup holder so that you always have a chill bottle of juice or beer within range.
This pool float comes with jet valves that allow you to easily inflate or deflate the pool. It's also incredibly portable because it can be folded up into three compact circles and carried around with ease. After inflating the pool, you can also grab hold of the side handles to carry it to the pool.
Aesthetics
This pool float is blue-colored and designed like a floating pool chair. It bears cup-holders on the side as well.
The Good
Customers are extremely happy with this product because it's great for socializing with people on the pools. You can sit comfortably on the inflatable lounge chair, drink a beer, and while away the time.
The Bad
While this product is very comfortable, it doesn't allow you to lie back flat because of the backrest. You also can't turn on your back and are forced to sit at a slightly reclined position.
Perfect to keep your back and butt under water and cooled
Ideal for socializing with others and relaxing
The cup holder is a great touch
No canopy is provided. As such, you risk sunburn, unless you carry a lot of sunscreen
Only a single sitting position is available
GoFloats Unicorn Party Tube Inflatable Float is our Budget Pick for this article because it's one of the most reasonable and fun party pool floats for adults. Not only is it really reasonable, it's also one of the best pool floats for heavy adults because it can accommodate over 500 pounds of weight without popping.
Product Highlights
Can accommodate weight of over 500 pounds.
It's massive in size at 45 inches wide and 3 feet tall.
Made of premium UV treated raft grade vinyl that's 25% thicker than the rest.
The rapid valve inflation allows the pool float to be inflated at 10 times the speed of other similar floats.
Suitable For
Pool parties when you want all your guests to have an awesome time and take hilarious Instagram snaps with the pool float.
Stability & Durability
The pool float has been made of premium materials, and the vinyl is about 25% thicker than those in competitor floats. You can even carry it to lakes and rivers (still and stable ones) and rest assured it won't pop.
One of the reasons you can really trust this product's quality is because it has been made by GoFloats, which is a reputable company based in sunny Orange County, CA. The company specializes in making stylish and playful pool floats, and they have an impeccable standard.
Comfort
This is an extremely large pool float about 45 inches wide and 3 feet tall. It can easily accommodate a small group of friends or heavy adults as well.
This adult pool float comes with Rapid Valve Inflation so you can inflate and deflate it about 10 times faster than other similar pool floats. It takes just about 2 minutes to inflate this pool float, whereas some other floats may take as much as 20 minutes.
Aesthetics
As you can tell from the picture and the name, this pool float is designed in the shape of a unicorn with a rainbow tail and a golden horn. That pretty much sets it up as a fun pool float meant for parties. Not only will every one want a turn sitting on it, but it has been designed to be Instagram friendly. You can take awesome pictures for your Instagram feed as well!
The Good
The best aspect of this pool float for adults is that every one wants a turn clicking Instagram snaps on it. This pool float is extremely photogenic, especially because of the rainbow tail and mane.
The Bad
Unfortunately, this adult pool float is extremely basic. It offers the bare minimum in terms of flotation but doesn't come with additional features such as a cup holder or a canopy.
Ideal pool float for heavy adults because it can carry over 500 pounds of weight
It's durable enough to be used in rivers and lakes
Can be inflated almost instantly
Extremely Instagram-friendly
The Chillbo DON POOLIO Inflatable Lounger Sun Bed is an inflatable sun bed meant for a variety of sceneries and purposes.
Product Highlights
Available in 12 patterns.
Easy to fold and store in a carry bag.
Can be stacked up atop each other.
Can accommodate 440 pounds of weight.
Suitable For
Chilling on the beach, camp, pool, river, or even music festivals. Minimal preparation necessary, just blow and relax!
Stability & Durability
This adult pool float is made of Ripstop Fabric, which is lightweight, highly durable, and portable. It's so firm and durable that you can even use it in rivers, lakes, beaches, and campsites.
Comfort
This pool float is 5 times easier to inflate than all of its competitors. This is a truly versatile pool float for adults because it is extremely buoyant on the water but it also serves as a great sun bed when you're out of the pool.
This pool float for adults has been designed with convenience in mind. It only has a single opening for air and a single lining. This means you can inflate it manually without much effort. You don't even need a separate pump.
The float is large enough that it can accommodate three people. It can accommodate weight up to 440 pounds, and that makes it a great pool float for heavy adults as well.
Even though this pool float is large and spacious, it's still highly portable. It can easily be deflated and folded up and it fits into an extra large carry bag which can either be stuffed into a rucksack or thrown into the back of your car.
Aesthetics
The Chillbo DON POOLIO is extremely pleasing aesthetically because the designs are all inspired from nature or from art, so they are highly photogenic as well.
The Good
The best aspect of this pool float for adults is that it's extremely versatile in its utility. It can be used as a regular pool float on the water, a sun bed by the pool, an inflatable mattress, an air hammock, a river float, snow sled, you name it! The possibilities are endless here.
The Bad
It's a fairly basic design with no canopy, no cup-holders, no extra support or stability. Mostly, it's just made for fun.
Extremely attractive designs
Easy to carry
Ideal as a pool float for heavy adults
Extremely versatile in functionality
Easy to inflate and deflate
Expensive
No canopy
No cup-holders
No backrests or headrests for additional support
Single air chamber means that it's not the most stable. As such, it's prone to tilting and flipping
The Intex Pool Lounger is one of the best pool floats for adults in the market. You can either keep it next to the pool and enjoy it as a sun bed, or you can use it as a float on the water.
Product Highlights
Floating recliner lounge design.
Has 2 air chambers.
2 cup holders are provided.
There are 2 armrests for comfort.
The fabric is 18 gauge vinyl.
Suitable For
A simple and reasonable sun bed that also doubles as a comfortable adult pool float. It's ideal for parties and guests like to socialize on the water while reclining on these floats.
Stability & Durability
This pool float has 2 air chambers and valves for added stability. A little bit of tilting and moving won't tip it over. This also means that you'll have to pump into both the air chambers, which will take a slightly longer time.
The fabric is made of 18 gauge vinyl which is firm and scratch resistant. However, you might need to keep splashing water on it otherwise your back will stick to the plastic.
Comfort
The backrest of the pool float is in a reclined position so you can lay back, and you also get armrest around the sides. The float slopes downwards, you can easily climb on it without much effort.
There are 2 cup-holders on both of the armrests so you can have a bottle of chill drink within reach at all times.
Aesthetics
It's designed like a lounge chair and as such offers peak comfort. It looks great in pictures with its shades of blue, deep grey, and white.
The Good
The Intex Pool Lounger is extremely comfortable and cheap.
The Bad
The biggest issue with this pool float for adults is that the material gets hot if its out in the sun for too long. Furthermore, you have to keep splashing it with water to prevent it from sticking to you.
Highly stable
Extremely comfortable
2 cup-holders provided
Lightweight and easy to carry
No canopy provided
Not a good pool float for heavy adults
Gets hot very fast
Final Thoughts
So now you know all there is to know about buying pool floats for adults. In this list, we've given you an overview of a range of adult pool floats.
Some of these are ideal pool floats for heavy adults, and some aren't as durable. Some of these pool floats come with a canopy for sun protection and some don't. Which pool float you use is up to you.
If you have any doubts, let us know about them down in the comments section. We'd love to help you.
People also ask
How do you wash and care for an adult pool float?
Every pool float comes with its unique set of instructions regrading maintenance. However, a few things you should do is dry off a pool float thoroughly before folding it and packing it into the case. If you pack the pool float with moisture still in it, you might find mold soon.
Can you leave your adult pool float out by the pool instead of packing it?
Yes, it's perfectly acceptable to leave your pool float out by the pool or anywhere on land. Some of the pool floats for adults are meant to double as sun beds as well. However, if you leave them out overnight, you should either take them indoors or you should cover them up. Furthermore, you should routinely debate and re-inflate your pool float to keep it fresh.
Can these pool floats for adults be used in salt water?
Yes, these pool floats for adults can be used in salt water. There is no harm in that. In fact, many of these pool floats are meant to be used in beaches. However, after you use it in salt water, you should thoroughly wash it clean with a hose before storing it.
Can I use the pool float for river rafting?
No, you should not use adult pool floats for river rafting. Even the pool floats that are made of highly durable materials are meant for stable waters. As such, you can take them out to the beach (when the waves aren't too strong) or to a lake or still river. However, if the current is strong, it's extremely risky to use your pool float for rafting. For that, you should use special rafting equipment only.