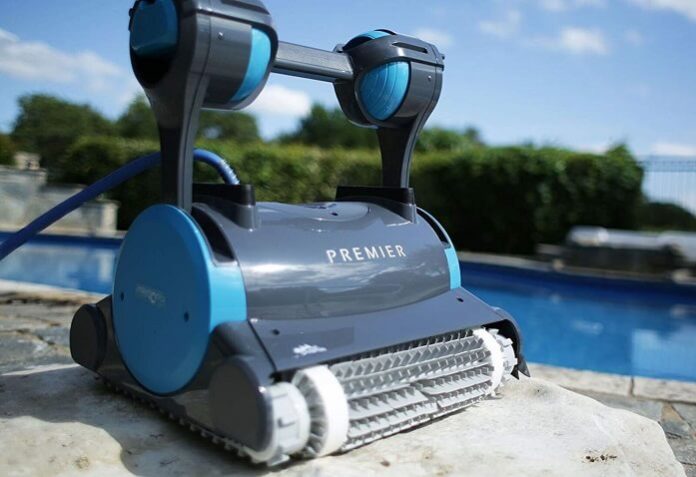 While there are several options on the market when it comes to high-end automatic pool cleaners, it's unsurprising that a lot of people have shifted their attentions towards the Dolphin Premier Robotic Pool Cleaner.
One of the main reasons this model has become a favorite amongst pool owners is its highly powerful and efficient motors and its capability to clean different kinds of debris from the sides and the bottom of the swimming pool.
This incredible cleaner is made to meet the ever changing requirements of pool owners across the world. Powerful without trading off on efficiency and built with the latest features and technologies, this unit from Dolphin offers an amazing clean.
Dolphin Premier Overview
The Dolphin Premier Robotic Pool Cleaner is set to leave its rivals in its wake with its unprecedented extreme efficiency and breathtaking design.
The Dolphin Premier Robotic Pool Cleaner comes with features that other pool cleaners can only dream of. Undoubtedly, this is one of the best models on the market right now.
It features commercial-graded DC motors which deliver an optimal level of experience to users. Also, some innovative technologies such as multimedia filtration system are used in this unit.
Hence, it's incredible efficiency is proven by reducing the level of energy up to 87 percent. To clean debris and minuscule algae that can probably pass through the filter pipes, the manufacturer used an large collection bag.
When it comes to the technical perspective, the most impressive thing about this unit is its underwater robotic cable. Also, the manufacturer used a patented 360 degrees swivel cables to avoid the tangling issue that usually results in reduced efficiency.
Further, the manufacturer used a highly-optimized 3000 RPM ultra-efficient DC motors to improve the normal efficiency up to 90 percent.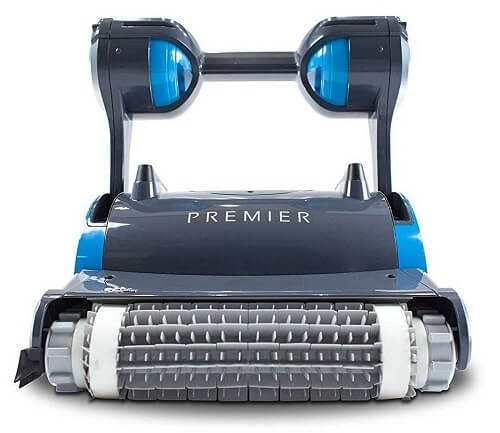 Dolphin Premier Features
2.5 hour cleaning cycle
For in-ground and above-ground pools
22 pounds dry weight
Comes with a remote control
Dual 24-volt DC motors
3-Year Non-Prorated Warranty
Ideal for in-ground pools
3-year Non-Prorated warranty
5 hour cleaning cycle
Smart navigation and mapping
Dual scrubbing brushes
Design and Accessories
This Dolphin model isn't the smallest pool cleaner out there and it comes in an extraordinary shape that sets it apart from other models. Measuring 23.5 x 19.6 x 13.8 inches and weighing 35.4 lbs., this pool cleaner has the perfect size and weight.
Besides, its tall handle enables you to easily take it in and out of the swimming pool. The 320 degree swivel cable ensures there won't be any tangling mess whilst cleaning so that accidents will be prevented and cleaning will be quick.
In addition, this unit comes with large rubber wheels which give adherence and enable the unit to easily go over bumps while the sturdy plastic housing is shock resistant.
Noise and Energy Efficiency
Furthermore, the unit features HyperGrip dual tracks which provide 40 percent more adherence so that the cleaner will not fall off stairs and walls whilst cleaning.
Besides, it features an intelligent navigation tech that minimizes the energy waste that is caused by pointless routes along the swimming pool. Since this cleaner uses 180 watts only, its energy consumption is limited to just 5 cents/hour, which is 90 percent less than an AC-powered pool cleaner.
Ease of Use and Durability
This pool cleaner is user friendly, and its lightweight nature means it can easily be dropped in the pool to perform its job. Also, maintenance is very easy due to the DIY design that enables you to replace each part and even change worn-out brushes yourself without needing the service of a professional.
If you aren't that handy, however, there are many services out there you can take the device to. But during the first 3 years of your purchase, the pool cleaner comes with a warranty that guarantees the smooth operation of the pool cleaner.
Low Maintenance
Maintenance is generally a big issue when it comes to advanced models such as this one. Luckily, the case here is different as the maker completely understands this problem and designed this model ease of use and repair in mind.
Therefore, all the parts, including cleaning system, motor and some of the electronic parts can be changed. They can be removed and replaced separately, which makes maintenance very easy in this case. Moreover, this model comes with 3 year warranty that guarantees that the pool cleaner will run perfectly.
Speed
Most conventional pool cleaners require no less than 6 hours or thereabout to take care of business. However, Premier completes the job in 3 hours or even less.
It's absolutely safe to go grab a beer or a sandwich whilst this unit cleans your pool. You don't need to stress about this device getting stuck since it comes with a unique cord.
The manufactures included a patented 360 degree swivel system that keeps this unit from getting twisted up.
Final Thoughts
The incredible control and thoroughness of this pool cleaner makes it an excellent option people are looking for only the best. Apart from the fact that it features a unique design, it also prides on a top performance and maximum efficiency.
Unquestionably, the special features of this model are the PowerClean system that guarantees that your pool is spotless and the SmartNav microprocessor that helps create energy-efficient routes when doing its cleaning.
Over all, with its stunning capabilities that make it a source of envy for its competition, there is just no going wrong with this device.