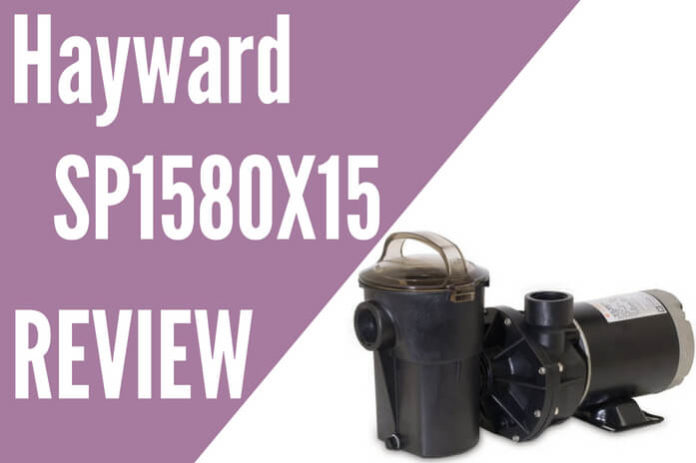 You may feel confused while finding the best filter pump for your above ground pool, as there are hundreds of options. What necessarily differentiates a particular pump from any other one of the same section is its set of features. It is very common if you are facing difficulties in making the right choice.
Amidst all of the pumps available for the above ground pools, some of them stand out from the rest. Thus, you can count on the Hayward SP1580X15 Power-Flo LX Series Above Ground Pool Pump for that.
If you are planning to purchase for the first time, then this Hayward SP1580X15 Review will help you to make the right choice. You will be able to decide whether this pump is suitable for your needs or not by looking at its features, pros, and cons.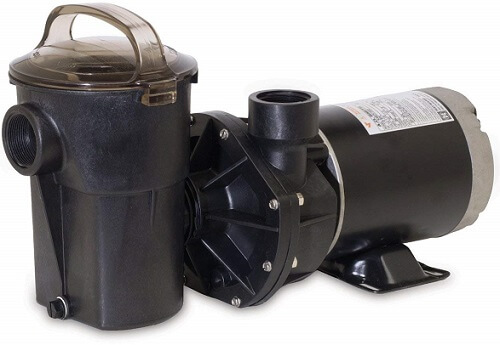 Low Maintenance
One of the most comprehensive features of the Hayward SP1580X15 is the fact that it comes under the spectrum of low maintenance pumps.
There are two motor variants available, 1 HP variant and the 1.5 HP variant. Both of the options are 115-volt pumps, which are drip-proof and enabled with heatproof sealing.
This feature naturally makes the motor durable and curated for long life. This feature further ensures you that you do not have to make any investment in replacing the pump motor for a long time.
Another reason as to why the pump calls in for low maintenance is the fact that it has been equipped with self-lubricating bearings.
This feature ensures that the bearings remain lubricated at the time of operation, which increases the performance and the durability of the machine. This feature also provides you with a durable device for long time use.
Dependability and Performance
One of the other most astounding features of the Hayward SP1580X15 Power-Flo is its hybrid functionality. Thus, this feature lets you use the device for both above ground and in-ground pools.
Also, the anti-corrosion construction of the machine with high-quality bearings on board ensures you better performance and long-term durability. It is one of the best available pumps for you if you need performance-based valuation on your expenditure.
Compact Dimensions for Easier Mobility
Moving the pump from one place to another is not much of a hassle either. Owing to the small dimensions of the Hayward SP1580X15 Power-Flo LX Series, it can be easily transferred from one place to the other manually. The combined item weight is merely 17 pounds while the dimensions are 22X8.5X11.5 inches in total.
Comes with a Strainer
The Hayward SP1580X15 Power-Flo LX Series pump offers you a double filter capable of collecting debris such as stones, gravel and much more. The capacity of the screen if 91 GPM and the discharge pipe equipped with the model is one and a half inch in diameter.
Primarily, the strainer collects any form of debris that may pass through the suction pipe, which is also 1.5 inch in diameter. This feature helps in easier maintenance and enhanced pressure for more natural cleaning of the pool.
Auto Shut-Off Feature
Regarding the safety of the pump, the "Hayward SP1580X15 Power-Flo LX" is an excellent option.
It incorporates advanced safety features like the thermal overload relay system, which detects any form of voltage fluctuations, overload or irregularity and automatically shuts off the system.
This aspect ensures you protection against hazards like electrocution.
Provision of Debris Bucket
An integrated debris bucket has been provided to you along with the pump, which is capable of holding 118 cubic inches of debris. It ensures you a machine with higher efficiency and lower maintenance cost.
In the end, you will be able to save money in the form of electricity bill and induce lesser effort on maintenance.  It is to be ensured that the debris bucket is clean after every use. It allows it to function appropriately and efficiently collect debris.
Durable "Perma Glass XL" Construction
The pump is made using a very durable and resistive material. The "Perma Glass Xl" is renowned for its high durability and strength. It is also resistive towards intense vibration, which is experienced when the machine is active and running.
Auto start feature restarts the machine on its own.
Thermal Overload Relay system saves machine from potential overload.
Easy to maintain highly durable motor.
Straightforward assembly and installation process.
Equipped with a filter for more original debris collection.
Made from highly durable ``Parma Glass XL`` material.
High performance and durable impeller.
Provision of the drain plug.
All-weather functionality due to a durable casing.
Filter and heater units need to be bought separately
The strainer bag needs to clean on a regular basis.
Extra set of pipes and hoses are not provided.
Final Thoughts
The Hayward SP1580X15 Power-Flo LX is an ideal requisite for you if you want good value for money. It is a safe unit, which has been integrated with several features.
At the same time, the unit is extremely compact and very easy to carry. The pump needs to be stored in a calm and dry space and preferably should be kept covered at every time.
There are two variants available, and you can make a choice based on your requisition. Both the 1 HP and 1.5 HP variants work perfectly and are equally safe for family use.
The unit is made available in a pre-assembled manner ensures absolutely no hassle during installation.
Enhanced voltage rating and heavy-duty materials make sure that your maintenance expenses are limited to a minimum. It is among the best available pumps in the market for medium-sized above ground pools in families.